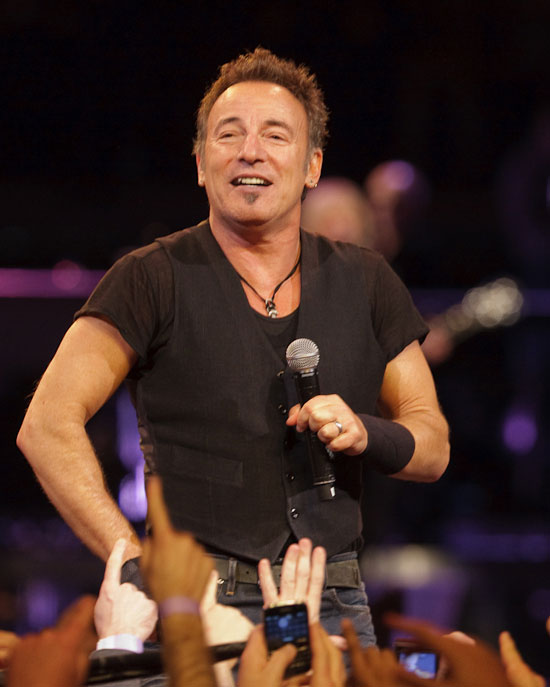 Photo credit: A.M. Saddler, from Backstreets.com
Even for those of us still sitting on the proverbial sidelines when it comes to full-time employment, today is a day to celebrate The Boss' birthday.
For along with much else that can be--and has been--said about Bruce Frederick Joseph Springsteen, born this day in 1949 in Long Branch, New Jersey, he has captured the hopes and hardships of working-class people better than any other artist in rock history.
Springsteen became my favorite singer around 1980 and has never come close to giving up the title--despite, as he has admitted, some relatively "lost years" in the 1990s, during most of which his stalwart E Street Band was dormant.
Bruce tops the list of
My 100 All-Time Favorite Artists of Popular Music
(as well as that of
My Favorite Entertainers of the '00s
) and I recently wrote a
long piece here
about him, centered around the upcoming reissue of his 1978 Darkness on the Edge of Town album, complete with plenty of extra material.
So especially as today I've already
penned and posted an article commemorating my all-time favorite jazz musician, the late John Coltrane
, who shares Bruce's birth date, I'll refrain from into a long-winded dissertation on Bruce. Suffice it to say I have all his officially released material and a few things beyond, I've seen him live in concert 38 times and can't wait for more, and with no disrespect to anyone who relies on religion, psychiatry or even controlled substances for emotional reinforcement, all I've ever needed was Springsteen's music to get me through some tough times.
So to celebrate The Boss turning 61--I celebrated #60 with him in person, last Sept. 20 at Chicago's United Center, when he first played my favorite album,
Born to Run
, all the way through--I'll do something I've never actually done before: Rank and count down my favorite Bruce Springsteen songs.
I thought I was going to do my Top 10, but couldn't quite narrow it down below 12, so that'll have to suffice. There are easily well over 100 songs of his I actively like, and very few I don't, so this wasn't all that easy. And though nothing post-1982 made the cut, I largely enjoy most of what Bruce has put out over the last 10 years and as a live act, he has remained as good as ever (and IMHO, leaps & bounds better than any other concert performer).
So without any further ado, here are...
My Top 12 Favorite Bruce Springsteen Songs
(Note: For those who want to hear the music but don't have time to click through all the videos, the final video below is a "Playlist" that will automatically cycle through the clips I've chosen.)
12. Atlantic City
-The acoustic version on
Nebraska
is great, but I love the full-band live rendition, such as this one from 1985. He opened with it when I saw him play in Atlantic City in 2003.
11. Candy's Room
- Probably the least prominent song from Bruce's canon in this list, but also one of his most sonically unique. Original version is on Darkness but this is a live version from 2007.
10. Darkness on the Edge of Town
- A phenomenal song about choices and consequences, without condemnation. His closing lyrics on this one are among my very favorite,
"Tonight I'll be on that hill 'cause I can't stop / I'll be on that hill with everything I got / Lives on the line where dreams are found and lost / I'll be there on time and I'll pay the cost / For wanting things that can only be found / In the darkness on the edge of town"
This is a cool live clip from 1978.
9. The River
- One of his most strident songs about the effects of a bad economy. The line,
"Is a dream a lie if it don't come true or is it something worse?"
is among his most poignant. This is a great version from the No Nukes concert in 1979 and subsequent film.
8. Jungleland
- With the Born to Run album being my favorite, its songs will figure prominently here. Jungleland is the closing cut on the record, done here in London last June.
7. Incident on 57th Street
- Like Jungleland, an almost operatic epic about lives and loss. Originally on his second album, The Wild, The Innocent and the E Street Shuffle, this live clip is from 2000.
6. The Ties That Bind
- A rocker that opens The River album. A quick and direct summation of many of his recurring themes. The transition before the last verse is one of my favorite musical moments.
5. Born to Run
- So ubiquitous--it's the one song all Bruce fanatics know will be played at every E Street show--that it's easy to forget how great it is.
4. Rosalita (Come Out Tonight)
- Similar to Born to Run, 'Rosie' is such a favorite of even casual Springsteen fans that it seems almost too obvious, but I just love it. And a great bootleg clip from '78.
3. Thunder Road
- This is like Bruce's Casablanca, full of lines people can readily recite. When I saw him at the United Center for 2 nights in October 2007, he hadn't played it the first night or previously on the tour. So this is a sentimental clip, even if the perspective and sound isn't the best; plus, my vantage point that night was quite similar.
2. Badlands
- Also a staple of just about every E Street Band show, this is one song that best provides a boost when I need one.
"Badlands, you gotta live it everyday / Let the broken hearts stand / As the price you've gotta pay / We'll keep pushin' till it's understood and these badlands start treating us good."
(Even the somewhat random renditions of many of these songs readily found on YouTube should show how good he and the band have sounded in recent years.)
1. Backstreets
- My all-time favorite song by anyone. And though they were before my concert-going time, his 1978 versions are his best ever. That said, this clip--the only one of the full song I found from that era--isn't the greatest, but should sufficiently capture one of the most majestic rock songs ever written. (You can freely listen to the
studio version here
and below the video is an audio clip of the best live version I've ever heard.)
As I said above, this is just a "Playlist" that automatically rolls through the 12 videos above, for the ease of those who prefer to have the music playing in the background.
Happy Birthday Bruce and thanks for all the phenomenal music!