Photo by Seth Arkin
On October 9, 1940, John Winston Lennon was born in Liverpool Maternity Hospital.
In March 1957, he formed a skiffle group, soon to become known as the Quarrymen.
On July 6, 1957, he met Paul McCartney at a party at St. Peter's Church (regarding which there's a cool book called
The Day John Met Paul
). Paul, and later his friend George Harrison, would join the Quarrymen.
In August 1960, The Beatles were so named, and included John, Paul, George, Pete Best and Stuart Sutcliffe. Sutcliffe would leave the band in 1961 and die from an aneurysm the following year. In August 1962, Ringo Starr replaced Pete Best on drums and on September 4, 1962, their first single, Love Me Do, was initially recorded.
On April 8, 1963, John and wife Cynthia had a son named Julian.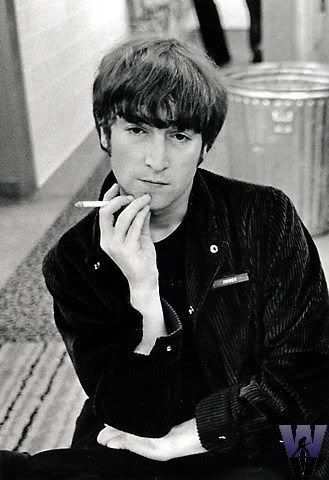 On June 6, 1963, John and Paul wrote She Loves You.
On February 7, 1964, the Beatles first arrived in America.
On February 7, 1964, they performed on the Ed Sullivan show for the first time, watched by approximately 74 million viewers—over 40 percent of the American population.
On October 21 & 22, 1965, John's composition, Nowhere Man--oft considered the Beatles first foray into social commentary--was recorded.
On November 9, 1966, the already married John met Yoko Ono. After his divorce from first wife, Cynthia, John and Yoko would marry on March 20, 1969. John soon added "Ono" as a middle name.
On April 10, 1970, the Beatles' break-up became public.
On October 11, 1971, John Lennon's most famous solo song, Imagine, was released as a single in the U.S.
On March 23, 1973, the Nixon administration ordered John Lennon's deportation from the U.S., but Nixon's own troubles (i.e. the Watergate scandal) precluded it from ever happening.
On October 9, 1975, on his 35th birthday, John and Yoko had a son named Sean.
On November 17, 1980, John (along with Yoko) released his first album in 5 years, Double Fantasy.
On December 8, 1980, John was shot and killed outside his & Yoko's apartment building in New York by Mark David Chapman.
I think it's fairly safe to say that John Lennon's life and death have impacted me (although both largely after the fact) more than that of any other person I haven't personally known.
While I can't help imagining what he might have done in the past 30 years, or any portion thereof, I also can't imagine the world without his being in it for the 40 years he was.
Below is a playlist of the 15 John Lennon songs (with and after the Beatles) that mean the most to me. If you get a chance to listen, I hope you enjoy them.
Happy Birthday John. And thanks.
Photo by Seth Arkin